Ash Wednesday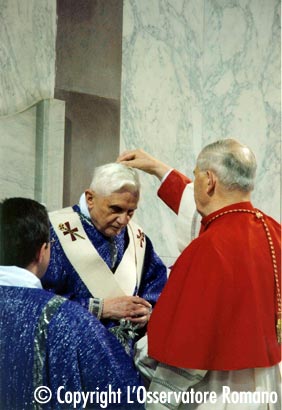 Tomorrow is
Ash Wednesday
, the beginning of the liturgical season of Lent and a day of fast and abstinence in the Universal Church.
On this day,
blessed ashes
are imposed on the crown of the head of the ordained and on the foreheads of the faithful, by tracing them in the form of a cross. The ashes come from the palms blessed during the preceding year's Palm Sunday, and are then mixed with olive oil or plain water as fixative.
Three
formulas
are given and one of them may be used:
1. Remember man that you are dust and to dust you shall return.
2. Turn away from sin and be faithful to the Gospel.
3. Repent and believe in the Good News.
The formula for the blessing and imposition of the ashes is found in the
Book of Blessings
. The rite of Imposition of Ashes may be done within the Holy Sacrifice of the Mass or during a celebration of the Liturgy of the Word.
Fasting and abstinence
is also observed by all believers during this day (as well as on Good Friday) who have reached the age of 18 and are below the age of 60. Fasting means that they are to eat only one full meal, supplemented by two smaller meals. Abstinence, juridically, is to abstain from meat but which is more widely interpreted as foregoing things that give us great pleasure (e.g. softdrinks, watching television etc.) as a form of penance and sacrifice. One especially laudable and meritorious form of abstinence is abstinence from useless talk.
There are however, valid considerations for
exemption
from both fasting and abstinence such as when one is sick, pregnant or has to perform some heavy physical (or even mental) work. In these cases, one is recommended to offer to God a work of mercy instead.
All the
Fridays of Lent
are also observed as days of penance. On these days, the faithful are to abstain from meat or else, do some work of mercy as a substitute. They are also to ponder and to pray about the Passion and Death of Our Lord.
These forms of ascetism are not only practices of mere privation but are oriented towards spiritual discipline which is cultivated by disciplining the body-which is actually a way easier task. By our constant dying to self, we are continually called to live the life of the Spirit as well as to give our lives to others. Hence,
almsgiving
is also an important Lenten practice, with the money that was saved from fasting and abstinence given to the poor and the needy. Indeed it should be done by Christians all throughout the year.
In these days when people fast to lose unwanted weight, let us fast to learn how to let go of our sinful ways. In these days when people live their lives going after every mundane pleasure, let us learn to give them up in pursuit of spiritual things of infinitely greater value.
As we suffer bodily hunger, even if only for a while, may we learn to hunger for God's word on which our souls feed and so find our true and lasting refreshment. May it also teach us to be solidary with the hungry people of the world who yearn not only for bread that satisfies but for the love that only Christ can give and which he gives through us who are members of his Body.
Lent: A Grace-Filled Opportunity
to be Renewed by the Grace of God
by Fr. Genaro Diwa, SLL
(An excellent catechesis and reflection on Ash Wednesday
and the Lenten season in general)